China Stone Industry: On the Rise in March
2017-06-12
As China's economy enters a new era of smooth and steady development, the country is also undergoing a tremendous transformation from being the "world's factory" to a world-class consumer society. China's economy is maintaining sustainable growth and will bring excellent potential for the stone industry long into the future.
Per figures by the Chinese General Administration of Customs, China's stone exports and imports amount slightly decreased in 2016. The value of exports reached 6.87 billion US dollars for a total of 26.03 million tons, a decrease of 18.10% and 16.97% respectively. That of imports reached 2.21 billion US dollars for a total of 11.91 million tons, a decrease by 6.13% and 4.18%.
However, the situation improved in March 2017. The city of Shuitou, neighboring city of Xiamen and largest stone production center in China, has an air of optimism. According to the China Shuitou Stone Index Information System, the stone profit index closed at 116.93 points in March, an increase of 40.88 points or 53.75% over February's index. This is an increase by 6.02 points or 5.46% compared to the same time last year. While government and stone experts reflected on the reason, some media sourcesconcluded that the positive outlookwas related to the stimulation caused by Xiamen Stone Fair 2017.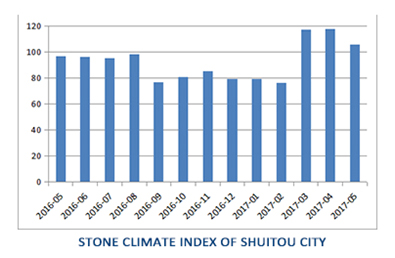 (Data released by the Index Office in Shuitou Government, Fujian, China. The samples companies are elected from 56 stone companies in Shuitou City.
For more, please visit: http://www.stindex.cn/index.html)
Success at Xiamen Stone Fair is a testament to not only China's economic development. It is a signal to the stone industry that now is the time to invest more in promoting stone products than ever. With the right strategy, stone has the potential to become a choicer global building material.
Despite fluctuating exchange rates and increasing labor costs, the stone export-import market remains strong. In this industry, the Chinese marketplace offers a variety of options for buyers, such as traditional lower-tech production to budget higher-tech machinery. The proportion of design and high value-added products is increasing. Sellers may have success offering high-quality, unique goods to Chinese or international customers. Therefore, businesses around the globe continue to discover unique solutions in the diverse trading environment of the Xiamen Stone Fair, and to a larger degree, China.